Description of Crispy Chicken Skin Frying Machine
The automatic chicken skin chips fryer machine series is a device that can work continuously and has a high degree of automation. It is widely used in small and medium-sized fried food processing enterprises, canteens, fast food restaurants, etc. Used for frying meat, pasta, nuts, fruits and vegetables, seafood products.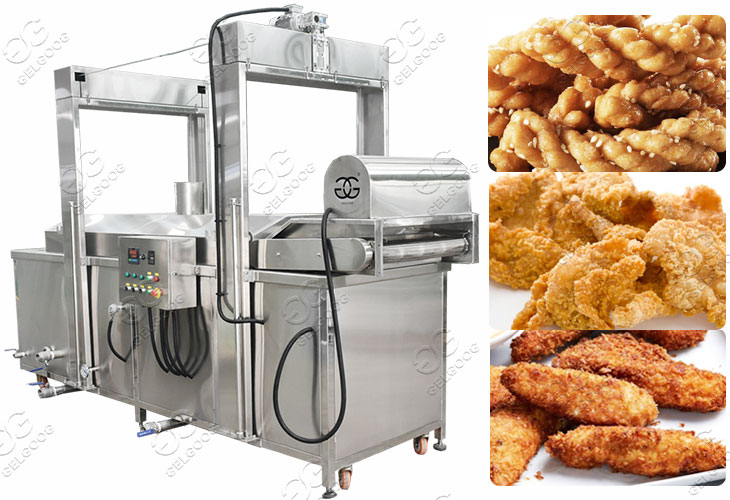 Application Range of Chicken Skin Chips Fryer Machine
♢ Pasta: twist, rice noodles, honey three knives, shrimp slices, fried dough sticks, hemp balls, kisses, Jiang Mi sticks, Shaqima, steamed bread, etc.
♢ Meat: chicken skin, pig skin, fish skin, meatballs, beef jerky, pork belly, chicken legs, chicken nuggets, chicken wings, etc.
♢ Nuts: peanuts, green beans, broad beans, sunflower seeds, chickpeas, etc.
♢ Soy products: dried tofu, bean foam, fish tofu, bean ginseng.
♢ Seafood: all kinds of fish, shrimps, scallops, small fish, squid rings, squid.
Characteristics of Fried Chicken Skin Chips Machine
♡ The fryer equipment is made of high-quality stainless steel with reasonable structure, strong and durable, and non-rusting function.
♡ The double-layer mesh belt structure can make all the materials immersed in oil and fried to ensure the consistent color of the product.
♡ The whole process of mesh belt conveyor to avoid the influence of human factors on the quality of fried products.
♡ The feeding end of the chicken skin chips fryer machine is made of special materials to prevent the materials from sticking.
♡ The heat source adopts natural gas and electric heating. The fryer can be customized according to the customer's production output, process, plant layout and so on.
♡ Equipped with manual discharging device to prevent economic loss caused by power failure.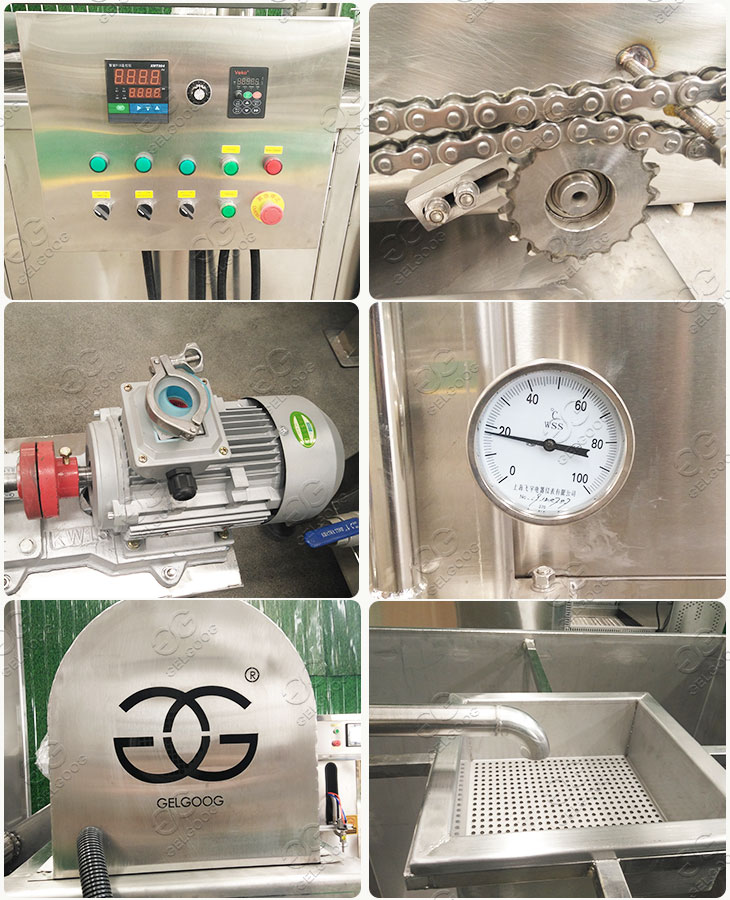 About After-sale Service
♢ After we sell the chicken skin frying machine, if necessary, we will send technicians to the site to install the adjustment, and provide free guidance training to the operators of your company, so that they can master the operation methods of the equipment and perform general maintenance.
♢ We provide a one-year free warranty for the product (including the cost of naturally damaged parts, except for electrical components. For the damage caused by improper operation of your company personnel, only appropriate material fees will be charged after negotiation). After the warranty period expires, our company provides long-term maintenance and repairs to the products, and only charges appropriate cost fees, free of labor costs.
♢ In order to ensure that your company's equipment can achieve the most ideal operation results, and in order to save our company's maintenance costs, it is guaranteed to regularly send personnel to inspect and maintain the product during the warranty period.
♢ When the chicken skin chips fryer machine fails, we will promptly make arrangements for transfer to the site for maintenance after receiving the notice from your company to ensure the normal operation of the equipment.
Chicken Skin Fryer Basic Parameters
| | |
| --- | --- |
| Model | GG-LZE4000A |
| Heating Type | Electric |
| Power(KW) | convey1.5,hoist0.75,heat120 |
| Size(MM) | 4200*1400*2300 |
| Weight(KG) | 1000 |
| Capacity(KG) | 300 |
| Mesh Belt Width(MM) | 800 |
| Oil discharge(L) | 950 |