Introduction of Electric Chin Chin Cutter Machine
The chin chin cutting machine is a equipment that imitates manual cutting, the design is simple, and easy to operate. The dough can be cut into different shapes, such as triangle, square, rectangle, diamond, round, curved, etc.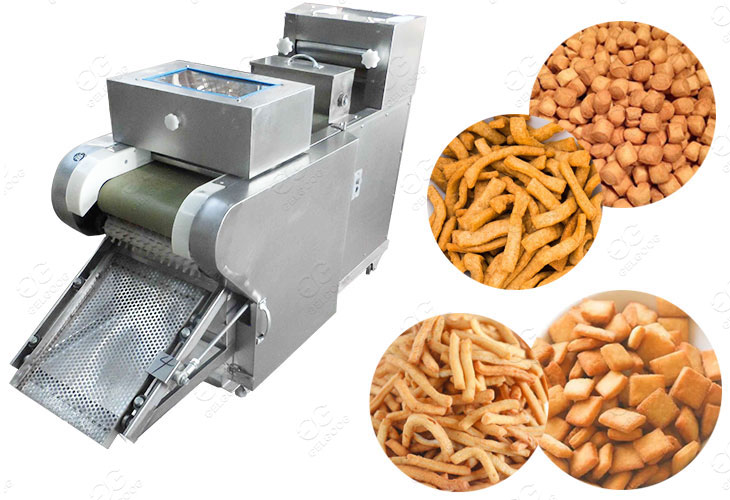 How to Cut Chinchin Dough?
Firstly, shaping the dough simply, then put it one the roll and roll into the mold knife, at last the knife could cut the dough into certain shapes. Cutting chinchin by this machine is the same in length, width, thickness, it is more efficient than manual production.
What's more, the dough will not stick to the knife, forming good and there is no scrap. In addition, the mold knives can be customized according to the customers' requirements. This chin chin cutting machine is simple in design and convenience to maintenance, only need one labor can operate it. It is an ideal machine for foods cutting in bar and block shape.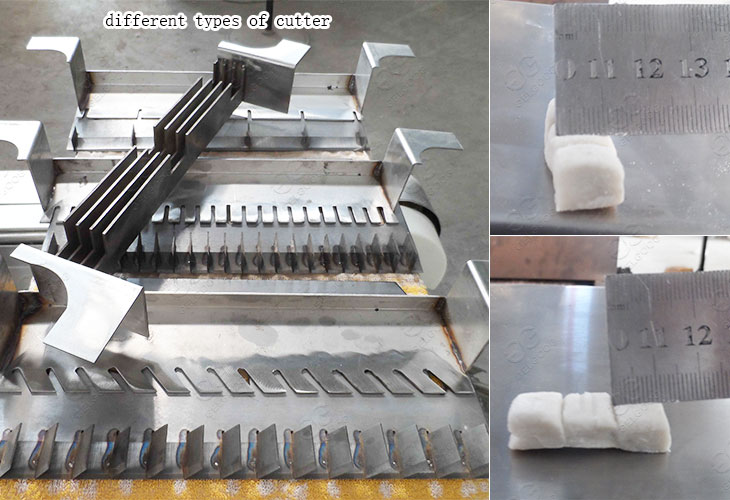 Features of Factory Price Chin Chin Cutting Machine
① The cutter machine is a multifunctional cutting machine developed by simulating the principle of manual cutting of food.
② The equipment is mainly composed of the frame, the transmission part, the pressing surface part, the conveying part, and the pastry forming part.
③ It has a wide cutting range and can be used to cut dough into diamond shape, triangle shape, square shape, etc.
④ It can be used with pressing machine, frying machine and hoist to form an automatic frying chin chin line.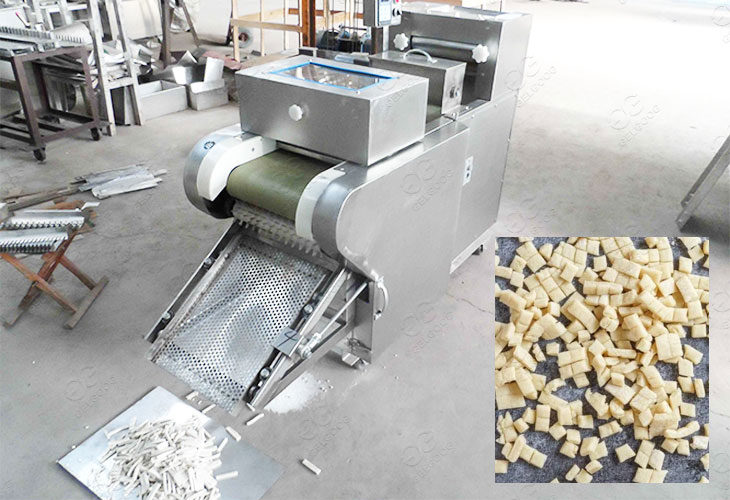 Working Principle of Electric Chin Chin Cutter
① Put the fixed amount of dough in the feed inlet, start the machine, and transport the fabric to the roll.
②The fabric is automatically fed and pressed by the conveyor belt and rollers.
③Adjustment of roller gap is achieved through stepless adjustment of the thickness of the roller. Users can master it according to the actual situation and the pasta process.
④The rolled dough sheets are sent to the cutting process through the conveyor belt, and can be cut into blocks, dices, diamonds and curves.
The Parameters of Chin Chin Cutting Machine
| | |
| --- | --- |
| Model | GG-MK1 |
| Power | 1.54KW |
| Machine Size | 1700*600*1050MM |
| Chin Chin Size | thickness≦1.5cm, length≦4cm |
| Chin Chin Shape | Square, rectangle, triangle |
| Capacity | 40-160cuts/min |