Introduction of Pork Cracklings Frying Machine
The company has advanced technology, producing automatic pork cracklings frying machine is suitable for frying a variety of products, such as pasta (chin chin, curry corner, spring roll skin, etc.), meat (pork cracklings, chicken skin, chicken nuggets, chicken fingers, etc.) , nuts, seafood, etc.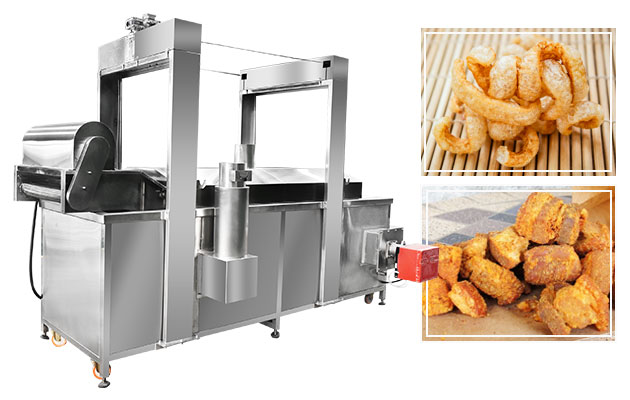 The fryer machine has many invention and design patents in Germany, the United States and other countries. Customers not only operate safely, but also ensure the excellent quality of fried food.
Features of Automatic Pork Cracklings Fryer Machine
① The whole fryer machine is made of stainless steel 304, which is beautiful appearance, hygienic and durable.
② The temperature can be controlled, and the frying time can be adjusted according to the characteristics of the product.
③ The hood and the machine are automatically raised and lowered, which is convenient for cleaning and maintenance.
④ Simple operation, the degree of automation of the whole machine is high, the labor intensity is reduced, and the labor cost is saved.
⑤ The company has been constantly innovating and changing. With 10 years of production experience, the production equipment is sold to all parts of the world and is your best choice.
How to Make Crispy Pork Cracklings?—Batch Pork Cracklings Frying Machine
The continuous pork cracklings frying machine is suitable for the continuous frying production of meat, aquatic products, vegetables, dough product and other products. The oil-water mixing technology is used to greatly reduces the oxidation of edible oil, extends the life of the oil, and improves the safety of the equipment.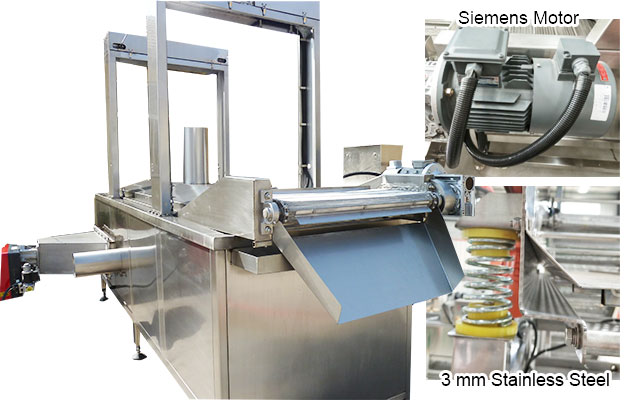 If you are a manufacturer of fried pork skin and want to expand your business, or you are a novice, please feel free to contact us. We have various frying machines for you to choose from.
Email: lisa@machinehall.com
Whatsapp/Wechat/Mobile: +8615515571373
Skype: jacobyaogelgoog
Technical Parameters
| | |
| --- | --- |
| Model | GG-LZG3500A |
| Heating Type | Gas |
| Power | convey1.5KW |
| Size(MM) | 3700*1700*2300 |
| Weight(KG) | 1200 |
| Capacity(KG) | 200 |
| Mesh Belt Width(MM) | 800 |
| Oil discharge(L) | 1200 |
| Air consumption | 23cube |
| Burner | 20WKcal |