Our fryer can process all kinds of meat products, such as pork rind, chicken skin, chicken finger, fish skin, chicken nuggets, chicken wings, chicken legs, meatballs, cutlet, etc. There are many models for users' reference.
The continuous frying machine has various methods such as electric heating and gas heating. It is a smokeless, multi-functional, oil-water mixed frying equipment. The equipment adopts the most selected oil-water mixed frying process in the world, completely changing the structure of traditional frying equipment, and fundamentally solves the shortcomings of traditional frying machines. It can fry all kinds of food at the same time without mutual taste. , Multi-purpose. The process adopts the method of heating from the middle of the oil layer to control the temperature of the upper and lower oil layers, effectively alleviating the degree of oxidation of the frying oil and inhibiting the rise of acid medium. During the frying process, the residue can be automatically filtered and the temperature can be automatically controlled, thereby extending the service life of the frying oil.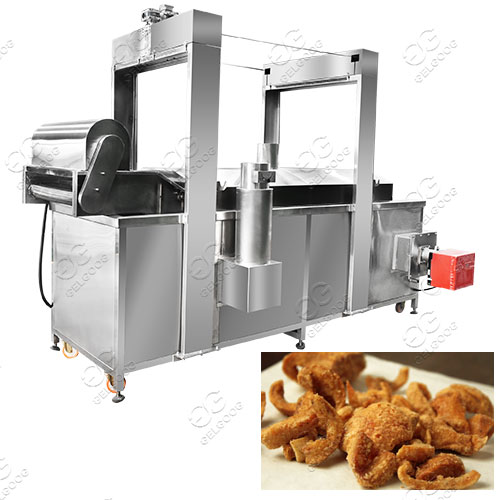 Introduction of Pork Cracklings Frying Machine The company has advanced technology, producing automatic pork cracklings frying machine is suitable for frying a variety of products, such as pasta (chin chin, curry corner, spring roll skin, ...
Read More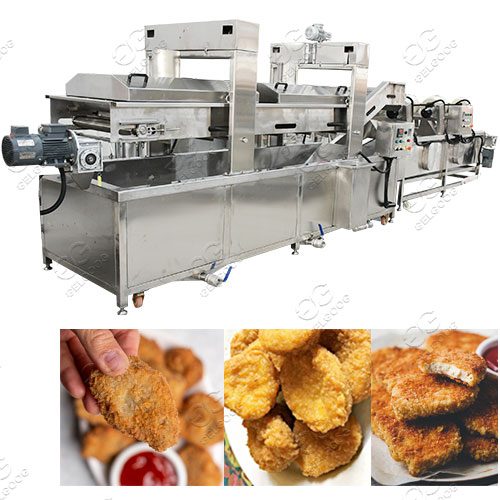 Introduction of Electric Chicken Nugget Frying Machine This chicken nugget frying machine is developed and produced by professional GELGOOG snack frying machine factory. The body of the fryer machine is made of food-grade stainless steel ...
Read More
The frying machines are mainly divided into the following three types.
Basket Type of Semi Automatic Fryer Machine
It is suitable for all kinds of small food factories and fast-food restaurants, fried chicken shops and pastry shops with large output. You can fry all kinds of fried foods, but most of the operations still depend on human manual operations.
Automatic Round Body Frying Machine
It is mainly suitable for small and medium-sized food factories, and can produce various meat products, such as pork skin, chicken skin, chicken fillet, chicken wings, chicken legs, fish skin, meatballs and other meat foods. The feature is intelligent temperature control, which can realize automatic feeding, automatic mixing and automatic discharging, etc., thereby reducing labor costs, more convenient and intelligent than the stand-alone series.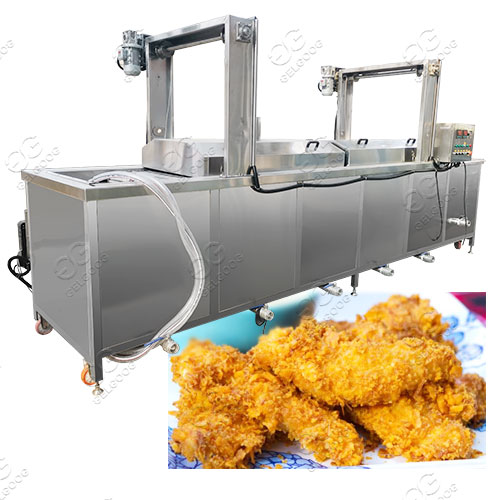 Description of Chicken Tenders Frying Machine The chicken fingers frying machine adopts the form of electric heating, and the heating tube is installed in the layer of heat-conducting oil, which does not contact with food ...
Read More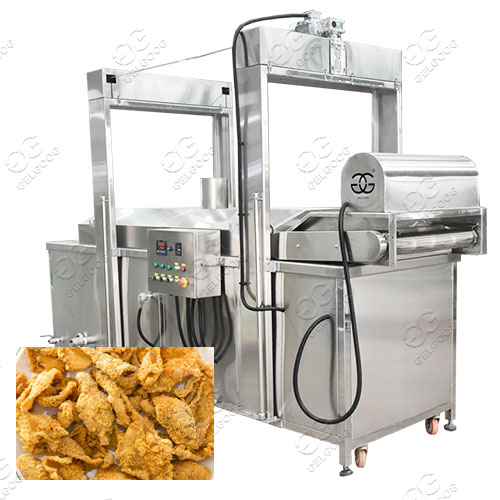 Description of Crispy Chicken Skin Frying Machine The automatic chicken skin chips fryer machine series is a device that can work continuously and has a high degree of automation. It is widely used in small ...
Read More
Continuous Frying Machine
The fully-automatic frying machine is mainly suitable for larger food production enterprises. It is characterized by continuous production, energy saving, labor saving, and more uniform product quality. For energy, electricity, thermal oil, natural gas, liquefied gas, and external circulation heating can be selected.